.: Jack Cavanagh :.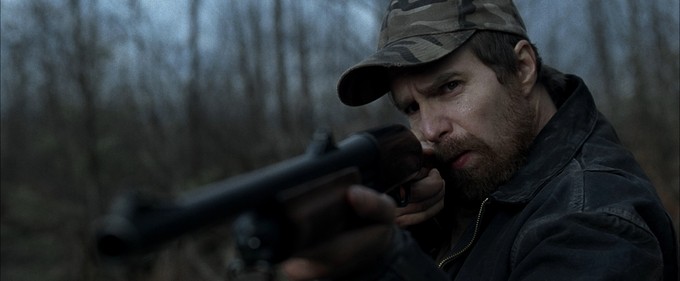 Description:
 Name
Jack Cavanagh
 Portrayed By
Sam Rockwell
 Profession
Drug Dealer
 Age
37
 Gender
Male
 Height/Weight
5'9" -- 163 lbs
 Tattoos/Scars
Has a sleeved tattoo of a bunch of different comic book characters on his right arm; on the back of his neck is a barcode.
 Clothing/Outfit
Jack usually dresses in loose shirts with his black leather jacket. He'll keep a pair of sunglasses on him at all times and rarely ever wears a hat cause of his hair.
Traits:
 3 Traits
Golden Tongue
-- He is a great charmer; able to convince people of just about anything.
Pain Tolerance
-- Jack can withstand quite a great deal of pain; he almost thrives on it.
Sleight of Hand
-- Can steal, pickpocket, or appropriate anything he needs; very resourceful.
 3 Flaws
Pathological Liar
-- This guy will do and say anything to save his own skin.
Independent
-- Has a hard time trusting others to get the job done; relies on nobody.
Drug Addict
-- Here is a man of many vices; no drug is off-limits.
Personality:
 Fears
Death, the Police, Losing His Money, Getting Lost, Commitment/Responsibility.
 Aspirations
Wants to see all 7 world wonders, Wants to retire and move to New Zealand, Wants to own his own bar, Wants a family.
 Dominant Emotion
Cleverness
 Demeanor
Jack is quite the paradox of a human being. Although he typically values "doing the right thing", these come attached to a very strict set of principles and morals. Whatever code it is that Jack adheres to, it has gotten him this far in life. He is a master manipulator, expert wordsmith, and clever soul. Able to identify one's triggers and pressure points, he is a subtle chamelion, able to charm and relate with just about anyone he sets his mind to. This is all done to serve one person though: himself. Jack is as selfish as they come, but he is always careful about how much of himself he lets show. He is definitely unpredictable and untrustworthy.
 Quirks/Oddities
Even for a man his age, Jack still keeps a small diary in his back pocket. It's anyones guess what he keeps written in there.
 Skills/Proficiencies
A life spent on the streets has given Jack an interesting repertoire.
Knives and Handguns, Hydroponics Knowledge, Motorcycles, Hot-Wiring Cars, Picklocking, Adv. Computer Use, Hacking, ID Forging, Sailing, Rock Climbing, Horseback Riding, Snowboarding, Skydiving, Drug/Prescription Knowledge, French, Italian, Spanish, Japanese, Sign Language, Manual Driving, Fishing, Sneaking, Pickpocketing, Lying
Equipment:
 Any item/weapon that your character typically has on them?
Usually keeps a switchblade and a lighter, eyedrops, and possibly a small pistol depending on the day. Also has several fake IDs handy and a lot of cash.
 Do they carry any keepsakes, trinkets, or valuables on them?
Keeps a lucky bottlecap and his journal/diary.
 What is their weapon of choice?
Jack prefers handguns above all else.
 Is there a special piece of clothing or jewelry that they typically wear?
Jack has a worn black leather jacket that he loves.
History:
 Born in Chicago, IL
 Adopted by first foster family; lasts 8 months with them.
 Moved through 5 different homes throughout childhood.
 Moves to New York at 18 years old; starts a band.
 Tours the country, ending up in Los Angeles.
 Gets involved in the drug game through the Lead Guitarist.
 Band releases first album; Jack develops first drug addictions.
 Jack gets caught with cocaine and prescription pills; serves time and pays a massive fine.
 Band breaks up; Jack caught up in massive debt, begins dealing again.
 Moves to Colombia and spends 10 years working on different operations.
 Returns to Los Angeles the day before the infection hits.