____________________
Jaika Elise Alein
____________________
The Airhead
____________________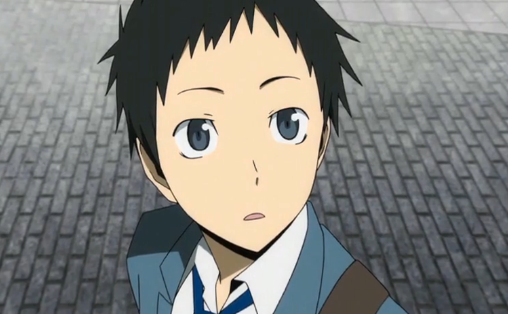 ____________________
Personal Information:
____________________
Description:
Jaika stands at 5'9", often staring with an expression that portrays curiosity with a bit of confusion at most everything that he's made to witness. His hair is straight, black, and rather messy all things considered, without much to give anyone any reason to stare for too long. With deep green-blue eyes and tanned skin, he looks just about average; enough so that most wouldn't pay him any mind in passing or conversation. The few things that do stand out about Jaika are oft hard to place, as his face seems to be one easily enough forgotten and most people pay him no mind. Many can't even describe where he might come from, or what his parents might have been and Jaika is never eager or open enough to give out an explanation. His movements can often be described as 'cat-like', striding easily even with his slightly shorter than expected stature, and more often than not he conducts himself with purpose and thought in every movement made.
Age:
17
Gender:
Male
Honorifics|Titles|Nicknames:
"Airhead." by those who know him closely.
Sexual Orientation:
Bisexual
Marking|Tattoos|Piercings:
None
Height:
5'9"
Weight:
165
Physical Condition:
Jaika is in healthy enough condition; not too thin, nor too thick. An average build that only helps his tendency to be an easily forgotten person.
Organizations/Tribes/Clans:
None yet. Later the Celtlight Cult will adopt him, but so far...
Former Affiliations:
He's a healthy boy! What're you expecting from him? Cancer?
Disabilities:
Healthy! What? Still expecting something horrible?
Personality:
Jaika is quiet by nature, often choosing to just observe and stand silent when confronted by others that he's quite close too. He speaks, rarely, and mostly just when addressed directly; though this leaves him as coming off as cold even if he is anything but. Regardless of his quietness, Jaika is a gentle individual and tends to be much too kind for his own good, even when the other person is clearly being rude in an attempt to get a reaction out of him. All of this adds to his 'innocent' appearance to many, and his tendency to forget even the most recent of happenings makes this no better.
Psychological Condition:
Jaika isn't obviously damaged by any meaning or stretch of the term; his only slight might be his illogical amount of loyalty to those he counts as close friends, going so far as to forget to take care of his own personal problems and livelihood if it means that his comrades might make it further by themselves... This unfortunate- if only for him- quirk translates over to almost all things. Perhaps one more issue with Jaika, might be that he has a tendency to be extremely forgetful, whether by accidental lack of focus, or forcibly paying no mind to something.
Addendum: Jaika is perhaps, worse for wear; his stance is twitchy and constantly restless, quietness of the mind doesn't come easy too him anymore, nor do coherent thoughts or musings.
Alignment:
Jaika's inclination is only to those he holds dear; chaotic neutrality would best describe him.
____________________


Equipment


____________________
Attire:
A simple aquatic blue t-shirt and hoodie are all the boy oft feels like wearing, with the standard blue denim jeans that many wear. Below that are a pair of dark black boots, large enough to give off the impression of combat boots, though they are anything but. Though he can more likely than not be found wearing his 'public outfit'. Which consists of a sky blue suit jacket and tie, a white t-shirt underneath and a pair of dark blue dress pants; always the ever present business man... Jokingly.
Protection:
Laughably none, why would one even wish to be protected when you'd just want to avoid conflict as much as possible?
Weapon(s):
None
Accessories/Misc:
Once again, none; save for the mobile phone he never leaves behind.
____________________
|Abilities|Traits|Racial|
____________________
Shapeshifting
:
In the loosest sense, Jaika is capable of completely and half-way changing his physical appearance, though this doesn't do justice as to how varied his power can and will become; so it shall be sectioned accordingly, from what he can do now, and what he will do later- From being able to create weapons of horrific gore and power, out of his own muscles, sinews, bones and teeth, to changing his physical form into something from a nightmare- a creature that could easily be natural, and yet is so clearly not.
Digestive Shapeshifting
:
Starting with the most important, and concerning part of Jaika's powers; this ability- That he has yet to fully grasp, or even notice- allows him to take the shape or change a part of himself into whatever he has consumed. Whether they be dead or alive, any organic creature that Jaika consumes will be 'slotted' as sorts into Jaika's memory, letting him access it's DNA and form however needed. The limitation here, is Jaika's knowledge of both anatomical workings, and just how much of the creature he has consumed: a finger/toe/wing just won't cut it. A sizable portion is needed.
Appendage Generation/Natural Weaponry
:
To continue on from Digestive Shapeshifting, another power that Jaika will learn to control- This one being the power he has experienced most often after his 'cursing' (ie: that one time when his living room was absolutely trashed as a result of his 'coming into power')- is the capability to generate additional body parts on his own person. This entails arms, legs, hands, feet, mouth, head and all other appendages. Appendage Generation. This is intertwined into what makes Jaika's powers and abilities so dangerous; Natural Weaponry- Or at least what will make them so dangerous- as he is not only ability to generate
human
limbs, but other limbs and extremities: Whips of muscle and sinew; claws of bone so strong and sharp they'd be akin to steel; chitin and enamel that grows so thick, that to call it stronger than concrete would be appropriate, creating armor around a certain portion of the body. The only limitation would be Jaika's imagination, and his creativity, though for now he can't do much.
Organic Constructs
:
Another ability that Jaika will slowly grow into, as incredible as it may seem, just might be the weakest one of his arsenal... If he didn't practice with it. Said ability is the process of creating structures, creatures, golems,
plants
- if given enough time and thought, and the like. Either by tearing off a part of himself, or controlling the parts of someone or something else, Jaika would be able to create just about anything he wanted, with almost full control of how permanent the creation would be, and how complex. Though with this, there are always severe limitations: Jaika is unable to create anything with a thought process more complex than a 1st grade child; he isn't capable of creating gigantic skyscraper-sized structures; and he cannot create anything that produces any amount of frost or large amounts heat. He can, however, make small structures capable of producing electricity, light and water, given the right substances as fuel. For now, any and all of Jaika's 'creations' will only be about as big as his forearm, and even then, incredibly inefficient at whatever he wished for them to do.
____________________
Current History
____________________
Throughout his childhood Jaika could always remember being with, or at least, near Elysia; whether they were at school together, out of school together, or exploring their city together. And as he grew older, it would be hard to forget how many times he and his long-time 'partner in crime' would get into some irredeemably inane shenanigan that would land them in more than a large amount of trouble with their parents. From trespassing onto property that they both knew was unsafe for anyone of any age to be poking around in, to getting into scraps and fights with the people who would instigate trouble during their 'adventures' as Elysia so lovingly put it. As they grew older, their interests differed and yet stayed the same; Jaika would grow to love taking note of everything he saw around them, while Elysia would grow into her habit of seeking out more and more 'adventurous' locations. Yet this never drew them apart.
(I'll edit this as the RP moves along, though a small note: I apologize greatly for how poorly this sheet is created; I'm new to this site, and rather used to just letting others feel out my characters as the RP moves along. A promise from me to you: I'll make sure to add more depth to this character as soon as I can.)