Name:
Maylee Dawson

Age:
18

Occupation:
Works in her family's bookstore

Blood type:
A-

Family (if any):
Father Robert and a younger brother, Kyle.

Background Info (optional):
On one the family vacations they happened to drove though Mercy Falls and her parents immediately fell in love with the town. Soon after they moved to Mercy Falls when she was eight. They bought a run-down building and after renovating it they opened a bookstore. When she was fourteen, her mother died while giving birth to her younger brother Kyle.
Appearance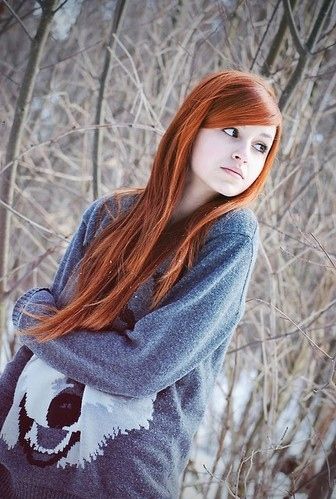 Height:
5'5''
Weight:
110lbs
Eye Color:
Green
Hair Color:
Red
Glasses or contact lenses:
None
Skin color:
Fair
Shape of Face:
Oblong
Distinguishing features:
Her red hair and bright green eyes.
How does he/she dress:
Style 1
Style 2
Style 3
Style 4
TraitsPersonality:
She is a kind and reliable person, and likes to think things through before she acts. She is friendly and likes to make people laugh. She is optimistic and always looks at the bright side of life. She is also a motherly figure since she takes care of her younger brother and is usually the one that does all the cooking in the house.
Likes:
Animals, cooking, reading, drawing, stargazing.
Dislikes:
Snakes, spiders, storms, tardiness.
Habits (smoking, drinking etc.):
She tends to bite her nails when she is nervous
Hobbies:
With school, work in the bookstore and taking care of her four year old brother she doesn't have many free time, but when she finds some time she enjoys drawing and painting.
Talents/Skills:
Drawing, painting, cooking.