---
---
ღ

Full Name

ღ


Deanna Chanel Devereux



ღ

Nickname(s)

ღ


"Don't really need to explain why I'm called Dytto, my dancing and the history behind that is enough. But my favorite of all the nicknames aside from Dytto is D-Mac. A bunch of guys and I along with a few girls were hanging out after a video game session, and because I can eat like a football player, I ordered two big macs, a medium fry and a sweet tea. And I crushed that shit. I don't go to McDonalds all the time, but when I do, best believe that I get a Big Mac, regardless of whatever the rest of the order is. So, the nickname just kinda stuck."
Dytto {Most common; everyone; also her host name and moniker} || Dee, Double Dee, or D-Mac {Common; mostly by good friends and fellow cheerleaders}



ღ

Age

ღ


17



ღ

Date of Birth

ღ


July 30



ღ

Astrological Sign

ღ


Leo



ღ

Sexual Orientation

ღ


"Funny story - my step-sister thinks I'd molest her ass in her sleep. Biiiiihhhh, please! But I do like girls. And guys. I like people - as long as you're a person, my damn-dat-ass-is-fine radar will be going off."
Pansexual



ღ

Relationship Status

ღ


"Shame me all you want, but I don't normally do relationships. I can admit it, I'm a possessive bitch and the second I claim you're mine, that's it. Period, point blank - mine. And since I'm not...comfortable with feeling that way, I make sure that I don't have to. Not like I've never had a boyfriend or girlfriend - had one guy during middle school that honestly should not count, and I've dated two girls outside of school. Just not my cup of tea. I do sex, though, and I fucking love it. No strings attached, no need to get all attached and ish. Though...well, it's not like I haven't been looking."
Single



ღ

Grade Level

ღ


Senior



ღ

Clique

ღ


"I may be on the cheer team, but I've been at Crossroads since the beginning and I'll always ride hard for the Artists. Honestly, for the B level as a whole. We're literally the fucking coolest kids in the school."
Artist



ღ

Scholarship or Not?

ღ


"As much as I respect Bernard and appreciate what he does do for me, I came to this school a scholarship student and call it my stubborn streak, but I refused to let some rich mofo think he was coming in and saving me with his billions. I have worked for and to maintain this scholarship and I bear that title proudly."
Scholarship
---
---

ღ

Height

ღ


5'6



ღ

Weight

ღ


125 lbs



ღ

Body Shape

ღ


"Gotta appreciate these Italian and French genes. I'm not the curviest chick on the block, but I've got bigger boobs than my step-sister and I have a small, but perky bubble butt. I can appreciate that."
Pear



ღ

Eye Color

ღ


Electric blue



ღ

Skin Tone

ღ


Creamy and fair



ღ

Hair: Color || Type || Length

ღ


"My own favorite feature, as if all of me isn't just gorgeous. I love my hair, specifically my curls. Couldn't tame them for shit when I was younger but now? My hair is probably my favorite accessory. It'll take me a gazillion years, but I'll straighten it and last I checked, my hair fell to the middle of my back. A bit proud of that growth and with the products Bernard bought me, my hair is crazy soft and I'm in love."
Long and naturally curly, Dytto's chestnut brown mane is a never-ending and can't-be-tamed mass of thick, lustrous curls. On most days, she leaves her hair as is, the curls small and defined, but it's volume only being slightly contained by the snapback or hair-tie she just so happened to place in it that morning. However, upon straightened, her hair follows the smooth line of her back in a sleek waterfall of nothing but brown silk. It just so happens that that is typically too much work for her and she would prefer leaving her hair in its natural state.



ღ

Tattoos? Piercings? Distinguishing Marks?

ღ


"Call me a bitch, if you will, but the only piercings I have right now are the ones in my ears from when I was a baby and my nose stud. Not gangster enough for a tattoo. But I do have a few freckles along my back that my mom said is some stupid constellation, but whatever. There's also a few freckles on my shoulders, but a light sprinkle on my face around my nose and under my eyes when I don't have on makeup. I only wear a little makeup to begin with, but those freckles are so light that they're easily covered."



ღ

Fashion Sense

ღ


Indeed, her favorite color may be pink and she may be more accustomed now to more expensive brands of clothing, but Dytto will never be a girly girl and that sometimes reflects in her outfit choices. It probably didn't help her cause back in the day when people would comment on her having no curves or not being that cute considering the fact that Dytto's style had always been urban and tomboyish. It still is, to be quite honest. She has also just learned to be a bit more feminine in her outfits. While she has a deep love for jeans and Doc Martens or Timberlands, her Timbs might very well have a heel to them and she has a deeper love for crop tops now. She keeps her nails on point as long as they don't interfere with her cheer routines. Her curls are more defined and less frizzy. A constant will forever be her snapbacks. There are times when Dytto might seem girlier than the day before, but trust and believe the urban tomboy style is reminiscent in her every day ensemble. She has just learned - due to an increase in her confidence and sense of self - to add a bit of a fem charm that does not compromise her comfortable wear.



ღ

Overall Attractiveness

ღ


"I may like to hang with the boys, but I'm cute as fuck and no one can tell me otherwise. Not when your boyfriend's been staring at my chest for the last five minutes. I mean, you have too, but I didn't wanna call you out or anything."
9/10
---
---
ღ

Good Personality Traits

ღ




✔

Sassy

✔

Outspoken

✔

Intelligent

✔

Down-to-Earth

✔

Honest

✔

Fearless

✔

Compassionate

✔

Independent

✔

Fierce

✔

Competitive



ღ

Bad Personality Traits

ღ




✘

Vain

✘

Flirtatious

✘

Blunt

✘

Headstrong

✘

Rebellious

✘

Impulsive

✘

Stubborn

✘

Emotionally-Guarded

✘

Possessive



ღ

Personality

ღ


Dytto had always been a bit of a force to be reckoned with, even as a child. It was one of the reasons why her mother and step-father purchased the home that they did; they needed something that would be luxurious enough to garner attention, but also something that would keep Dytto active. Not that it kept her grounded or at home because if you asked anyone, Dytto is a bit of a wild child. It fits the image she has constructed just before high school. After years of physical and emotional abuse by her peers in elementary and part of middle school, Dytto hardened the sweet girl she was before - the Deanna inside - and molded herself into a smart-mouthed, tough, flirty, and competitive badass that takes no shit from anyone. She has the capacity to be a leader, that much a lot of people know. Her fellow cheerleaders have acknowledged this the most. After all, Dytto would never be considered a follower. She's too unwilling to adhere to anyone else's rules other than her own. Granted, Dytto knows the rules of life and understands she's not the queen of the world. However, since she was a child her mother grilled into her a sense of self-confidence that enables her the ability to not bow down to anyone, no matter how bitchy or high-maintenance they may seem. In fact, she'd probably tell that person off and not give a damn who heard her. After all, who does she have to fear? A lot of the elite girls she knows, particularly like her step-sister, are more catty and willing to spread rumors; the woman Dytto is now will gladly fight with her attitude, vain bravado (since she has to pump up a bit of cockiness to fully embrace her confidence), words and fists if necessary.

Over the years, Dytto went through a development that cultivated a stronger sense of self and confidence. As a child, she had never been allowed to fight the girls and guys who made digs at her and made her middle school years hell, so when she finally had time to herself to get ready for high school, Dytto refused to allow herself to ever be vulnerable. Around the same time of her bullying was her parents' divorce and the discovery of her mother's affair, which solidified Dytto's inability to do romantic relationships. Sex has always easy for her. She can do that. It's never really a walk-of-shame for her. She's not a slut; she doesn't wake up every night with a new guy. That's not in her. But she likes sex and she does it well, and when she finds someone who does as well, why not explore that? They might have great chemistry. She's also the type to simply have fun and chill out, but that can be discussed later. The big thing is that anything deeper than a friends-with-benefits endeavor leaves her wary and even more closed-off. It terrifies her. If the happy marriage she thought she saw with her parents couldn't last and the amount of long-lasting relationships in the world ending, what would make her believe that anyone would ever want that with her? Granted, a good chunk of this stems from being told in middle school that no one would ever truly want her and she's since then forged herself into a bit of a tease - something to be touched, but never cherished. And Dytto contends to this personification of sex and closes herself off when feelings arise, or at least, she tries to. The issue with Dytto is that while she is the one who seems the most open and the easiest to read, she's not. She's far more closed off and sensitive than she allows for people to know.

What ends up surprising most people is the girl Dytto can be once you take away the performing and the defenses - the girl who has actually inspired people despite the image she wants to have. As a girl who has always been book smart and a bit street smart, Dytto's intelligence is typically a surprise, but not as much as her compassion and her ability to care. She doesn't spend unnecessary money. Sure, she does shop every now and then; she will gladly admit that girlier side of her. She's also one who could do movie nights and play video games with the guys, and have low-key hang-out sessions with friends. She's the one who will shake her ass in the middle of her choreography on stage, but will also gladly stick up for another student who is bullied under the guise that watching them quiver their lips like a little bitch is annoying. She is the one who looks out for her family, even when they don't believe that she is or that she even cares about them, and will gladly cut a bitch off if they come off for someone she cares about. While it is rare for her to be vulnerable around people unless they are closer friends, and even rare during those times, she is still loyal. Even if someone calls her a slut or even a bit of a bitch, the one thing they can say is that she does have her priorities and as they always have been, close friends and family are her number one priorities. Them and having fun.
---
---
ღ

Greatest Joys in Life

ღ


It's probably safe to say that Dytto's greatest joy in life is being able to dance. She's renowned, particularly in Los Angeles but in various scenes around the world, as Dytto, host and model who hosts a music show for World of Dance called The Drop. As a dancer, she displays her unique styles of popping, animation, robotting, tutting, and finger tutting. She has always felt passionate about dancing and she is literally always moving, going so far as finger tutting in class when she's simply bored. Her next greatest joy is honestly having fun and enjoying life. While some people find joy in the superficial, Dytto finds joy in simply being in good company and being young adults. Even if some times her quests for fun are a bit reckless.



ღ

Greatest Fears

ღ


Dytto is a natural-born and trained dancer - a choreographer. A bright one at that. Her greatest fear would be becoming paralyzed or any physical situation that causes her to be unable to dance. It would literally destroy her. As much as her mother instilled an actual enjoyment of learning, it was her emotional connection to having something that brought her somewhat closer to her estranged father - dance - that is literally her life line. She's already made a career out of it outside of school. If she couldn't dance anymore, Dytto might honestly never find true satisfaction in life and it terrifies her to lose her purpose. Her other greatest fear, even a bit more than losing her mother though that itself is a powerful fear, is not ever being truly wanted. Once high school started and puberty officially decided to bless her just a little, Dytto has been wanted. Dytto is fun and flirtatious and sexy. But Deanna - the sweeter girl she was a few years back - never was, or at least, in her eyes, she never was. And that scares her - the idea that she'll always be wanted for a good time, but never anything more than that.



ღ

Hobbies

ღ


Dancing | Gymnastics | Pranks | Flirting | Playing video games | Netflix | Kickboxing



ღ

Likes

ღ


Dance | Video games | Hot chocolate | Brownies | Driving with the window down | Competitive cheering | Adrenaline rushes | People who can make her laugh | Kissing | Marvel and DC films | Deadpool | Mathematics | Shopping | Watching sports games | Bacon cheeseburgers | Kickboxing | Winning | Awesome parties | French Toast | Sweet potato fries | Sex | Smoothies | World of Dance



ღ

Dislikes

ღ


Being underestimated | Bigotry | Losing | The idea of rejection | Bullies | Anyone who lies to themselves that they are better than her | Being lied to | Snow | Sunburns | Cauliflower | Tea | Being vulnerable | Crying in front of others | Country music | Snakes | Dark, enclosed spaces | Entitled people | Her father | Anyone who thinks they can boss her around or tame her
---
---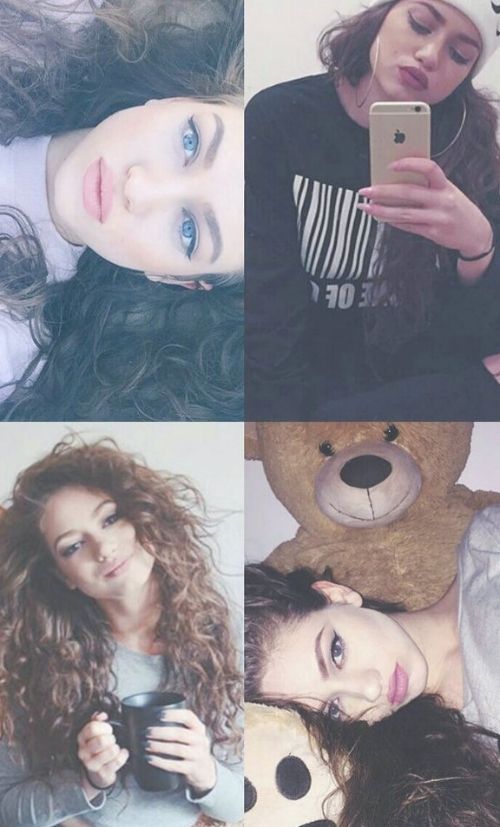 ღ

Clubs? Sports?

ღ


From the second she entered Crossroads Academy, Dytto was on the dance team. However, once her popularity outside of the school grew exponentially and she became a host on World of Dance, she wanted something different. She was becoming more known and after being bullied during those younger years, she wanted to be stronger. Tougher. And to piss people off - which turned into her joining the cheerleading team. She didn't make captain like a lot of her fellow cheerleaders still want, but Dytto's satisfied with being involved with gymnastics and tumbling again. That makes her dancing better. She's also a member of the National Honor Society and the Anime Club.



ღ

Roommate(s)

ღ


TBA



ღ

History

ღ


Most people tend to think that there was never a moment where Deanna wasn't this outspoken and daring young woman with the sex appeal that would rival some of the greatest icons, but there was definitely a defining moment in her life. And there was also a point that she was just a regular sweet girl with a dream and a naivety to be rivalled with. That was before her mother married Bernard Arnault. Deanna had simply been the daughter of up and coming luxury brand fashion designer, Amelia Devereux, and Millennial Dance Complex instructor, Lorenzo Albertini. Lorenzo's lessons were always jam-packed and a few notable celebrities who had to prepare for dance films or simply attended them raved about him, but the real breadwinner was Amelia. At a young age, Amelia was privy to the mounting tension between her parents. The shouting matches, the thrown dishes, and occasional bruises - she knew all about them. Had witnessed them. Definitely not the healthiest environments to grow up in, but surely school was an escape. She was a smart girl with all of her teachers talking about how well she would be as her educational experience was broadened. She was attending one of the most prestigious and expensive schools on the west coast. And she was miserable. Granted, she was doing more than some of the other rich kids. Deanna's escape from everything - the both sometimes physical but definitely verbal bullying from her peers, her parents' failing marriage, the knowledge that her mother was having an affair, the fact that her father only cared when she had on ballet slippers - was dance. And she was gaining attention for it. She had seen online in various choreographers' routines as one of the youngest on dance teams. She was on an all-star cheer team outside of Crossroads and on a dance team at the complex her father worked at and at Crossroads.

However, she was getting the heaviest critiques, not from Hollywood and those who would late catapult her career, but by the peers she spent a good chunk of her time with. Deanna didn't develop until the ladder part of middle school, so she had always been really skinny. Her lips were too big for her face, same as her eyes, and her curls were Hermione Granger's original mess of a head. She would get bullied constantly, being told that she wasn't particularly pretty and even worse by the richer students who thought her mother's brand would never become anything bigger than it was. That her dancing wasn't going to get her anywhere. There had been one time she was locked in a dark closet for nearly an hour before her claustrophobia caused her to pass out. At the time, her mother didn't see that Deanna was really struggling with the girls and told her to suck it up. They were just jealous and she shouldn't worry. However, the bullying escalated to physical torment and at the same time, her mother's affair was brought to the forefront. Deanna was about ten, her father was leaving with a false promise to always be around, and suddenly she was going to have a new step-father and step-sister.

And Deanna didn't take moving into her new home, despite Bernard's attempts to win her affection with material goods, well. In fact, once she turned thirteen, the little girl who was getting bullied refused to allow anyone to do anything to her anymore. Actually, not even her mother could do anything to her. Deanna would simply throw in her face that her new-found love was nothing but trashy scandal like one of the sitcoms she loved to watch. So, she turned to her dance and embraced the wild side. As she constantly tells everyone, she never shot anything in her blood stream and the most she has ever smoked was weed, but she definitely made a rep for herself as a party girl. Hell, she even threw parties whenever Amelia and Bernard weren't home. At Bernard's insistence (for which Deanna did begin to show a bit of gratefulness) Deanna was allowed to quit the school dance team and distance herself from those whom she has acknowledged now as nothing more than haters, which only enforced her loud lifestyle and allowed her the freedom to dance more outside of the school, and was even trained in kickboxing Of course, she would get grounded, Amelia gave lectures, and Lorenzo (upon Amelia's consistent insistence considering the fact that he flitted in and out of their lives like the summer breeze) called to check in on her and make sure she understood what she was doing, but that was the point - she did know what she was doing. Deanna was choosing not to be the same Deanna that was locked in a closet. Definitely not the one known as the nerdiest of the Artists. And definitely not the one everyone seemed to think they could walk all over. To put it plainly, she became Dytto.

It's not like the change in attitude, not to mention puberty's eventual presents, didn't gain her a few things. For one, Dytto has become a renowned Los Angeles based dancer. She hosts the World of Dance shows every year, models, and has even recently been featured on the Ellen DeGeneres show. Not to mention a few other accolades and mentions from celebrities and dancers alike. She gets to say she makes a bit of her own money and doesn't have to - though she does now that she fully appreciates his assistance - always depend on step-father's hefty allowances. Come high school, Dytto was a popular artist of Crossroads. She still threw parties and guys and girls alike give double takes at the sight of her plump, luscious lips and curves. Some are even intimidated by her. With the cheer team and even some of the dancers who used to have shit to say about her, she's garnered respect and admiration that Dytto eats up. She may have enemies now that she doesn't take anyone's mess, but they understand where she stands. She won't be taken advantage of. She has gained confidence. But it also cost her her ability to be that sweet girl that her closer friends would know her as. Dytto may seem energetic and ready for fun, but there was a gentleness in her that she now hides behind blunt bravado and nonchalant protectiveness. It cost her the ability to allow herself to be vulnerable enough to have meaningful relationships and to see that not everyone wants her to have sex. It cost her the ability to love without feeling like someone was going to take that love for advantage or not want her - all of her. It cost her a bit of being herself more, even if Dytto won't admit that to anyone.
---
---