Full Name: Vincent Claude Heathcliff
Gender: Male
Sexuality: Pansexual
Race: Human
Age: 34
Personality: Although looking grim, pitiless and ruthless, Vincent is actually very humorous (in a very sarcastic way) as well as passionate for things he believes in. He can be a very kind man, but not necessarily a "fair" man. Overall, however, Vincent has a grim, sarcastic know-all sense of humor.
Occupation & Level of Education:
Unemployed ; Beggar
Not a titleholder
Tutored in Mathematics, and Biology; slightly adept at book keeping.

Height & Weight: 5 Feet 9 Inches (165 Centimeters approx) | 180 Pounds (12. 9 Stone) /without armor\ 220 (15.7 Stone) /with armor\
Face Claim: Mads Mikkelson
General Appearance: A worn, battle-torn face that aged rather well with such circumstances, Vincent is handsome to say the least; even to a young noblewoman's standards. He has a defined jaw, a pair of emerald hues, his irises striking a whimsical gaze despite his grim expression. His age gifts him with peppered bits of silver in his unkempt hair-do. He has a bushy, salt and pepper beard that isn't entirely silver, but more of a gray-brown.
His build is average, but he has muscularity; focused around his biceps, forearms, pectorals, back, and calves. His abs are sculpted to some degree, and the toning of his muscles are noteworthy, but he isn't jacked up.
Combat experience:
Very Skilled with a sword, knows many techniques, but is rather formidable with the standard 'hacks-and-slashes' of most fighters. Has a wide retinue of abilities when parrying.
Very skilled with a shield; can defend himself from almost any weapon with the right shield.
His sword and shield combo makes him a force to be reckoned with. Keying together a typical attack, and defense method with his own brash underhanded tactics has seen him to victory on numerous occasions.
Adept with a bow and arrow; although he doesn't tote one around, should he have one in his hands with an arrow or a dozen he can hit a target.

Beliefs: Above all else, he believes in Fortune; not as a God or Goddess, but as a benevolent power. He is slightly religious, but can't be bothered with massing in a cathedral just to prove his devotion. To find out more, one would have to inquire about such simplicities.

No aspirations to note right now; he is surprisingly contempt with his status.

Possessions: A sword-like charm, which is more like a dagger on a piece of string around his neck.
Weapons/Shields/Etc:
A Longsword
Overall Length: 33.375 Inches
Blade Length: 23.875 Inches
Blade: Mirror Polished, Steel
Scabbard Material: Hard leather, Steel trimmings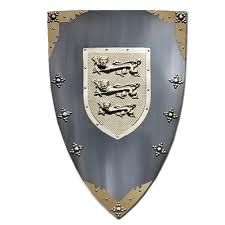 A Kite Shield

History: (I'll work on this as we go, but for now I'd like it to remain a mystery.)