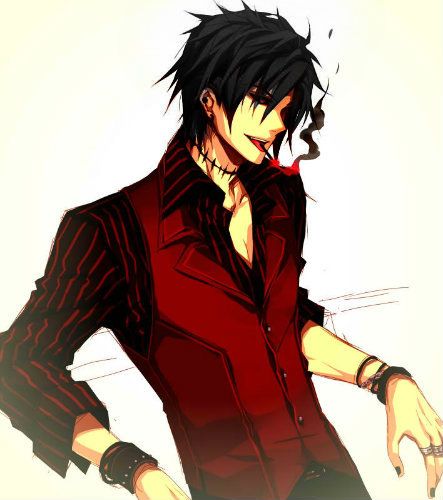 ---
Ghouls & Goblin's put your hands together for...
Kaito Tantalis
---
Name:
Kaito Tantalis
Nickname:
Satan, Devil, Grim Reaper
Age:
Twenty-Two
Gender:
Male
Race:
Devil/Demon Hybrid
---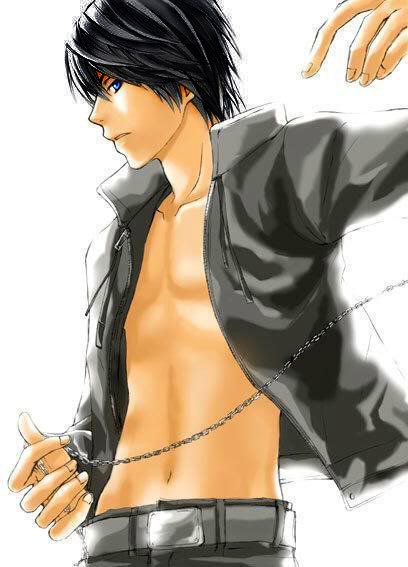 Weaponry:
Kaito has only a minimal amount of power when it comes to his demonic energy it can still effect his soul greatly, darkening it and maddening him like his 'father'. Kaito wishes to find a cure for the insane state that demonic power can put a demon in. But because Kaito is half devil he has the power over blue hell fire, one of the hottest known to any creature. Devil's are almost actually the same as demon's but instead of controlling demonic energy they control hell fire. But hell fire is also hard to control and that is why Kaito had a crafter make him an enchanted sword that will only let him access his hell fire by unsheathing the sword. When he does his body is surrounded in it and blue flame horns appear on his head. Besides his hell fire, sharp canines, claws and demonic energy Kaito has his brain which is also a every power weapon.
Physical Appearance:
Kaito's appearance is similar to his brother Yuki's. When he was younger Kaito was a scrawny, short, weak boy with waist long hair and big electric blue eyes. He was cute compared to his brother's handsome. But since he had to survive on his own Kaito's appearances has greatly changed. He now towers over everyone he knows and as broad shoulder, a tampered waist and strong muscles. He cut his onyx black hair up to the bottom of his neck and his once boyish features have changed into more manly features. But one things has stayed the same and that is his stunning electric blue iris's and red pupils, though the iris's turn a deep red like his brother's and his pupils a dull onyx when he uses his demonic energy.
Height:
6'7"
---
Personality:
At a young age Kaito was deemed as the 'smart' one while his brother Yuki was the stronger one. Kaito didnt mind this one bit for he enjoyed reading the ancient literature his father had found in abandoned ruins on his travels as a young demon. Kaito adored his older brother and was secretly in love with Dasin at his young age. But everything changed when Kaito found out about his true heritage. After that his became stoic and hollow walking around like an enchanted scare-crow. Years later after his little state of depression Kaito turned back to his normal self just vamped up a bit. While he still enjoyed being the intellengent one he also now has a little bit of a bad-ass side. While part of him is this calm person another part of him is this bad-ass, dare-devil who likes to fight and win.
History:
Kaito had a pretty good life living with his father, mother and big brother Yuki. Though all that changed on the night of his father's rampage. What no one else knew was that Kaito was with his mother that night, being told the truth about himself. His father wasnt really his father. His mother had an affair with a devil creature named Lucifer and that in turn produces Kaito. Yuki was his half-brother. Knowing all of this broke something in Kaito, the knowledge that his big brother would always be there, the love and respect he had for his father, trust for his mother. It was all a lie! The anger and rage that coursed through Kaito made him storm off just as his father arrived and he didnt look back as he heard the screams of his mother, the woman that had lied to him for years. After the town was destroyed Kaito ran away from his brother and friend as the reality of what he just did coursed through him. He let his own mother die! This crushed him, piece by piece and for weeks he just sat in a cave, weeping and crying for his mom. But she never came. Time past yet Kaito can't remember what happen over the course of time. Over the years Kaito hardened again, becoming stoic and aggressive towards people, not caring about anyone. Then he met her, Elizabeth. She was a siren and his first love at the age of six-teen but she soon died after from heart failure. Rage filled him at the lose of his lover and he channeled all his rage at one man. His really father, Lucifer.Through those years of rage Kaito's memory is fuzzy and he cant remember much about those years like before. At the age of nine-teen Kaito decided to challenge the Devil King for the throne of a Kingdom called Hell. It was a powerful kingdom that Kaito wanted to see burn. Kaito defeated Lucifer and left the Kingdom in ruins. Now years later Kaito feels lighter on his feet, feeling like a light has finally shone on him and he quests to find his brother but the quest was interrupted when he was ambushed by a Magi and forced into imprisonment.
Why are you here at Castle Yuki?:
Kaito was on his way to Yuki's castle after not seeing his brother for eight years but was ambushing by a Magi and forced into imprisonment.