❝Gabriel Clemente❞
---
---
Name: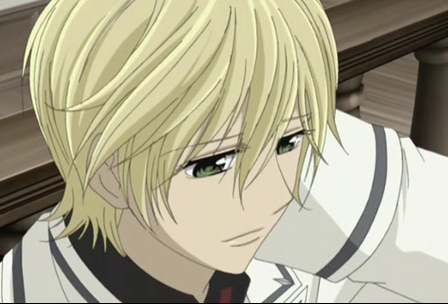 Gabriel Clemente

Nickname:
Gabe

Gender:
Male

Age:
20

Sexuality:
Pansexual (Can't be fussy about his food)

Race:
Vampire
---
❝What I See In The Mirror❞
---
Eye Color:

Green

Hair Color:
Blonde

Height:
6'0

Weight:
140Ibs

Body Markings:
none

Physical Description:
Gabriel, like any other vampire, is described as being quite attractive and as a result, tend to be the most popular. It sadly has quite the knock-on effect that they gain such beauty but cursed by their immortality and unable to truly love another back. Gabriel is tall, lean-built, thin with a slight pale complexion. His hair is a light shade of blonde which shines when in the sun. Despite having a slight pale complexion, he does have a soft visage, wherein lies his bright green eyes which captures the hearts of his victims. Due to being traditional, he usually wears smart casual clothing and wearing what is appropriate, which sets him apart from others.
---
---
Likes:
Blood
Literature
Night-time
Music
Peace
Dislikes:
Blood (for what he has to do)
Death
High Temperatures
Discrimination
Upstarts/Fighting
Fears:
Being alone (but can't be helped)
Himself; Having to kill in order to survive
Dieing (as anyone would)
Strengths:
Superhuman Strength
Healing
Enhanced senses
Flight
Hypnosis (used rarely due to its affect on mental state)
Weaknesses:
Silver
Fire
Sleep Deprivation (no need to sleep)
Blood Deprivation (result in death if do not intake)
Decapitation
Personality:

Gabriel acts as a vampire should, but appears very un-vampire like with his cheerful, enthusiastic, and caring demeanour whether it be towards humans or vampires. However he is also very capable of being deadly and determined when the situation requires. His constant smile and upbeat attitude, even in dark or painful situations, sometimes make it difficult to tell what he's really thinking or feeling. He has no fear in mentioning the flaws or negativities of a person's character or decisions, not even contemplating what may result due to his high confidence or what some may describe as arrogance. He is very loyal to those who are loyal to him, and will protect and stand up for them no matter what. Although Gabriel usually possesses a carefree attitude, it can be shown that he understands complicated scenarios with an air of maturity, though occasionally showing an immature side.
---
---
Background:

Gabriel has always been a carefree spirit, ever since he was a child. He was brought into the world as a human, before the world he knew, his parents, his friends, all faded into dust in a single bite from a Pureblood vampire. Gabriel was left with two choices, he could accept his situation and become a vampire, or he could hold onto his humanity as he descends into madness. However, little did he know that he was in actual fact a Pureblood vampire also, and that the vampire that had bit him, was infact his father who brought him back. Despite this revelation, he found the prospects ahead not as bright as they once were. Nevertheless, things could not be changes and Gabriel was adapt to change and learning as he went along.

He still wished to retain some of the old days, but knew nothing could be changed, but he could hold onto his principles from his younger days, so if he was to be a vampire, he would not be the same as the rest and mercilessly kill in order to survive. It was his method to give them the option just as his father had with him, but when they chose death, it pained Gabriel more than it did the human, but he kept it concealed as he usually does. How could this be life? he often wonders to himself. Despite the requirements of his survival, he also inherited many powers that could be used for good, like his healing for others, and supernatural strength which he could use for good. Every little helps....