"Caught in the eye of a dead man's lie
Start your life with your head held high"
Heaven Knows | The Pretty Reckless
---
---
Name:
Briar Elizabeth Peyre
Nicknames/Aliases:
Bri | Beth
Age:
20
Gender:
Female
Element:
Earth
Sexuality:
Pansexual
---
---
"Won't be pretty
Won't be sweet"
---
---
Height:
1.73 m
Weight:
130 lbs
Hair Color:
Pale blonde
Eye Color:
Blue
Appearance:
Briar's usual wardrobe consists of whatever top she picks up - usually a band shirt (
her favourite
) - underneath her beloved
leather jacket
plus some jeans and
studded boots
. She sometimes adds on a pair of
gloves
Briar has a
clockwork spine
tattoo on her back, adorned with scars of varying sizes all over her body.
X
X
X
X
X
X
X
X
Her motorcycle
---
---
"Tell 'em it's good
Tell 'em okay
Don't do a goddamn thing they say"
---
---
Personality:
Briar is a person who believes in living every day as if it was your last, and by the things she did every day, they might as well have been her last. She's a party animal, a socialite, and someone you can find where people are gathered usually as the center of attention. She's a daredevil, doing anything she can and then some. She's eccentric and an avant garde and likes to surround herself with similar people. Briar is smart and a smooth talker, a rather useful combination when dealing with the police. People get easily drawn to Briar, as if with a force as powerful as gravity. Briar doesn't actually care about if she has a lot of people around her. The only important thing is that she was having fun.
Briar can be a bit hot-headed. It doesn't take much to set her off, and she can get extremely violent and uncontrollable whenever that happens. She's also not one to take anything seriously, always choosing to let things run its course, even if it means bad things for her and the people around her. She usually lets things she's not involved in slide off her back, making her seem distant and uncaring. Briar isn't someone that's reliable or responsible, and as such, a lot of aspects of her life has gone awry. People that care about her have talked her ear off about her habits, but she let them in one ear and out another.
Briar is a night owl, opting to stay up late than wake up early. She's a person who cannot function properly until after four cups of coffee, six on days when a rather harsh hangover hits her. She's extremely fond of her leather jacket and should someone touch it, they would feel the entirety of her wrath on them. Her motorcycle is another of her most precious possessions.
Some surefire ways to piss of Briar is cutting her off from music, offering her sweet food and drinks, and conforming to rules. She hates enclosed spaces and would fight tooth and nail to get out of them. She's also not that fond of planes.
---
---
"If you listen close
You can hear the crying"
---
---
Strengths:
Avant Garde
| Briar is one to think out of the box. Her methods are odd but creative, and often seems like it would take a miracle for them to work, but they usually do.
Musically-inclined
| Briar has been writing music since she was young. She has also mastered playing the guitar, the keyboard, and the cello.
Daredevil
| Toss a dare towards Briar, no matter how farfetched or ridiculous, she'll take it on and most likely complete it with her usual flashy style.
Socialite
| Briar is always surrounded by all sorts of people, and as such, she often has the person to contact to help for any occassion.
Weaknesses:
Claustrophobic
| Briar can't handle being in a place where the exit isn't open. She would also suffer from a panic attack in small spaces.
Aviophobia
| Briar will never get on a plane, no matter the circumstance. She would rather find some other way to get to wherever she needs to be.
People she cares about
| It's rare for it to happen, but it does. If you want to hurt Briar, getting to her loved ones is a sure way to go.
Flaws:
Short-tempered
| It doesn't take much to set her off, and she usually gets extremely violent. Whenever she does, she loses control of herself.
Irresponsible
| You can't rely on Briar for anything as she usually forgets whatever you tell her if it doesn't benefit her in some way.
Vices
| Briar is bordering on being an alcoholic. Added with the amount of drugs she takes, it's a miracle she isn't dead yet.
Reckless
| Briar doesn't really care much for her health and isn't one to look before she leaps. This impulsiveness has earned her a few broken bones and more than her fair share of scars.
---
---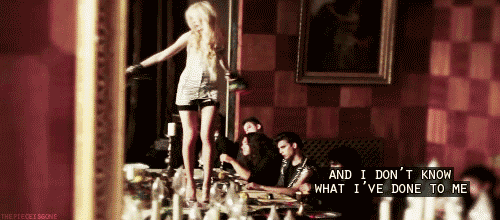 "I've seen better days, man
I've had better days"
---
---
History:
Briar was born on December 21 in a small hospital at Maine. The weather had been extremely cold, and there had been complications with Briar's lungs. She wasn't breathing properly, and the nurses feared the worst. But young Briar strode through and grew healthier the following day, finally giving her parents her very first smile.
The Peyre family was somewhat wealthy. Amaranth Peyre was a corporate lawyer, working for the biggest business firms in America. Johanna Peyre was a published novelist, whose books often hut the best-sellers list in stores. Briar grew up with a silver spoon in her mouth, and lived without a care in the world.
Then, tragedies began to strike their family. When Briar was eleven, her younger brother Cypress, who was only about a couple of months old then, had been kidnapped and kept for ransom. Her parents hurried to try and gather the money they asked, but they were too late. The kidnappers hadn't been aware of Cypress' special medical condition, and not being given the needed medicine in time, the baby died. The entire family was devastated. By the time Briar reached twelve, her mother had fallen into a pit of depression and overdosed on some prescription drugs. Briar only had left her older sister, Aster, and her father, but alas, death wasn't done with their family yet.
By the time Briar was fifteen, she'd already gotten involved with the wrong crowd. She'd began to do drugs and often got arrested by the police for petty crimes. She had become a burden to their already suffering family, but her father still attempted to survive. He failed, however, when the company he worked for went down in a scandal that took up headlines in newspapers for weeks. The company silently had everyone who worked for them assassinated, including Amaranth Peyre.
With only Briar and nineteen year old Aster left to fend for themselves, hope seemed lost. But Aster was already of legal age and their father had left a lot of money in their name, so Aster strived to do the best she could of the situation. Aster took up business in college, all the while taking care of her juvenile sister. Aster Peyre was nothing if not determined, and by the time she was twenty-two, she was working as a manager for a good corporation.
With her sister providing for them quite nicely, Briar continued to be the reckless mess she was. The only reason she even enrolled herself in college was because of her sister's persistence.
It was as she was heading home from one of her usual parties thar Briar discovered her new abilities. Drunk and disorientated as she was, she'd caused a huge amount of damage to the city, which the officials has blaimed on an earthquake. At first, Briar thought she'd been so high she'd dreamt up the entire thing, but the next day came around and her ability to manipulate earth was still there. Confused about her situation, she told everything to Aster, who quickly thought up of possible reasons. It was during their talk that Briar received the telepathic message.
Briar doesn't really want to participate in saving the world or whatever, but because her sister forced her to, saying that she needed to make something of her life, she took up the responsibilities of an avatar.
Family:
Mother |
Johanna Peyre
| Deceased
Father |
Amaranth Peyre
| Deceased
Older Sister |
Aster Peyre
| Alive
Younger Brother | Cypress Peyre | Deceased
---
---
"Oh, Lord, heaven knows
We belong way down below"
---
---
Face Claim: Taylor Momsen
Color: #7F5217