Name:
Itsuse Sanada
Art by warchiLd15
Age:
622 years (Looks to be around 21)
Gender:
Female
Nationality:
Asian
Height:
5'2"
Weight:
116lbs
Hair:
Raven Black
Eyes:
Smalt Blue
A decent looking woman, She has vibrant Smalt blue (Dark powder blue) eyes, with a soft ring of gray within them. She used to keep her hair short and cropped, but in the few passing years she has changed, deciding to let her hair finally grow out, the later now reaching her mid back.
Most would guess she was younger, due to her "Baby face" but she is 200 years old, having lived in Soul Society all her life. Her face is youthful and round, although she has a smooth, wide oval shape to her face. Her nose small nose fits her face well (Although she thinks it's too small) but her smile is radiant, as her hygiene is important (And GozeIkkitōsen usually forces her to keep it up, even though she does so naturally.) Her frame is small, but she has a sleek build of slender muscles. She has a fitting bosom (Although she wishes it were large) leading down to her slim torso and thighs. Her calves aren't large, but they are powerful, giving hints to her agile body, and the end is her small dainty feet and hands, which she usually keeps her fingernails short and well taken care of.
She has a special tattoo that spans her right shoulder blade, given to her by 4th Division Vice Captain Idania daughter of Yakov of dark springs. This tattoo acts as channel for her dormant reiatsu, giving her a colossal boost of power, and regulating the overall control of her reiatsu.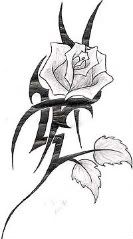 ---------
In soul society, she wears a Standard Shihakushō with a white shitagi, a black kosode & fitted black pants instead of the typical hakama, with the sides of the pants open down to her upper thigh to increase the air flow to her body and to allow the sunlight to warm her thighs. Along with this she wears a white hakama-himo and wajaji. Over this she drapes her Division 5 Hiori over her shoulders proudly. She also wears a blank white bandanna. Underneath her clothes, she wears a specially made thick strap combat ready top that extends to her navel, bearing a small part of her midriff. She usually strips out of her robe tops when facing a serious enemy. She also wears a Ginjōtan under her sash which protects her waist; at desperate times, she will remove it for a burst of mobility.
In the human world, she wears a fitted black dress skirt, a long Blue fleece scarf with tails that hangs to her upper thigh, and black tennis shoes. Other than that her style of dress was normal for humans, matching the seasons normally.