Welcome to the Sith Academy, young one. This ancient academy is built upon the planet Korriban, the birthplace of the ancient Sith. Within these walls, you shall learn to embrace the power of the Dark Side or you shall be deemed unworthy to join the Sith. Beware. Unworthiness often results in death...
Okay, so this is obviously about life in the Sith Academy. There will be ambition, love, lust, betrayal, anger, hate, etc. Some Jedi might even try to infriltrate it.
Rules
1. Keep this rated Teen
2. No-godmodding.
3. Up to three characters allowed.
4. Be creative, you're a potential Sith after all. Tongue



Character Profile


Name:
Age:
Gender:
Race (Human, Twi'lek, Wookie, etc.):
Appearance:
Personality:
History:
Lightsaber:
Other:

My Characters:
Name: Quordis Starkiller
Age: 43
Gender: Male
Race: Human
Appearance: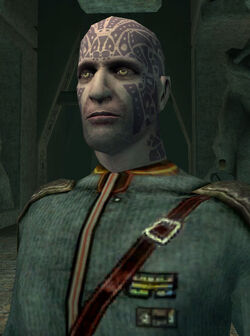 Personality: Cold, a bit arrogant. Cunning and takes pleasure in molding young minds in perfect Sith... without surpassing him.
History: Quordis is a veteran of many Sith Wars against the Republic. Over the years, he has gathered knowledge enough to become headmaster of the Academy.
Lightsaber: A single crimson blade.
Other:
Name: Darren Tovar
Age: 17
Gender: Male
Race: Human
Appearance: Darren has black hair, blue eyes, and is slightly pale. He's dressed in traditional black Sith robes.
Personality: Darren is ambitious and passionate. He's determined not be weak.
History: Darren Tovar was born on Nar-Shadaa, the son of two refugees. When he was very young, they were both killed in front of him. He was frightened and ran away. He made a living as a swoop racer, but soon fell into debt, becoming a slave. His owner took most of his earnings and financed his swoop. One day, Darren heard of a ship going to Korriban and once hearing that he had the qualities of a Force-Sensitive, snuck on it, determined to become a Sith. Darren was soon able to gain entrance to the Sith Academy.
Lightsaber: Red double-bladed lightsaber.
Other: