Crane Ichabod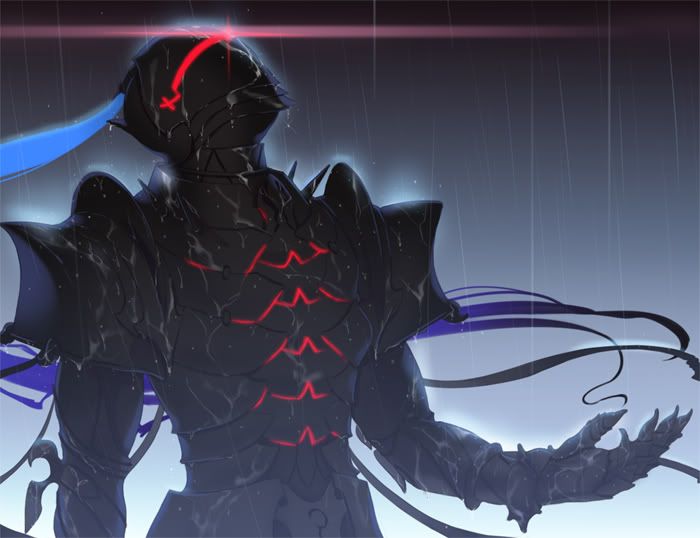 Theme first image:
Sad Romance by Thao Nguyen Xanh
Theme second image:
The Battle Is To The Strong
Role:
Male one - The Vagrant Knight
Gender:
Male
Nickname(s):
The Execution Rider, Knight of Solitude, the phantom knight
Age:
Unknown
Race:
Unknown, Assumed human.
Appearance:
Crane rides on a
horse
with hair that is like silver. The horse has no name, simply a creature he rides upon. Under moon light the horse seems to gain an unearthly glow, and seems stronger then most breeds. Crane himself is a large man, nearly a head taller then average men, and is dressed entirely in a suit of heavy plate-mail armor, the metal of which seems to wrap around his body. There are strands of a strange black fabric that sprout from the back of his armor with dull spikes at the ends. On rare occasions in what seems to be a trick of the light, one can seem to spot a faint red glow from certain parts of his armor.
Preferred Clothing:
Is always in his armor, never takes it off, not even to eat or sleep.
Height:
6'7"
Weight:
223 Lbs (305 if you include the weight of his armor)
Hair Color:
Unknown
Eye Color:
Unknown
Personality:
Crane is a solemn and quiet person. Not because he dislikes conversation but because he rarely finds things to speak about. Small talk is something he's a bit unused too. Instead he seems to often be in a state of apparent meditation, seeming to always be reflecting on something. Left alone with his thoughts he has become quite philosophical, coming to look at the world around him in a sort of detached view. While this can make him appear almost emotionless at times it gives him a more cosmopolitan out look on the world.
It is to be remembered that he is a knight. Though he might be more lenient towards what most consider amoral he still has his own sense of honor, and will hold to it as best he can. While years of Isolation and fighting may have left his morals askew, he tries to hold onto
some
of the concepts of justice that were instilled in him . Cruelty, simply for cruelties sake is something he cannot tolerate and he will reprimand someone for needlessly cruel actions.
Quirks:
Crane never takes off his armor for any reason, not even to eat or sleep. In fact no one has ever observed him eating at all, and with the way his armor covers his body know one can tell if he ever really sleeps when he stops to rest.
Often Crane seems more active and able at night.
He does seem to an awful lot about the strange creatures of the fae and their habits. Sometimes explaining facts and remaining aware of their presence, mostly when trying to avoid them.
Another, more gruesome, habit he has is to behead his enemies when he gets a chance during battle. His nick name, The execution rider, comes from his constant decapitations of his opponents. Most battles end with him burring the heads of his slain enemies.
Likes:
Moonlight, The sound of running water, wind, rain, white flowers, flute music.
Dislikes:
Bright lights, loud erratic noises, sadistic or self-serving people.
Hobbies:
Carving wooden statuettes, listening to the weather, and secretly is a fan of reading poetry.
Phobia(s):
Dishabiliophobia- Fear of undressing in front of someone.
Paralipophobia- Fear of neglecting duty or responsibility.
Politicophobia- Fear or abnormal dislike of politicians.
Potamophobia- Fear of rivers or running water.
Weapon:
He carries a
Zweihander
(two handed great sword) on his back as his primary weapon, the sword itself is six feet in length an weighs nearly eight pounds. As a second option he keeps a three foot long
Katzbalger
(one handed sword) on his saddle along with a metal kite shield for when he needs close quarters fighting. While he may use the sword as his primary weapon he has had training with maces and pole-arms like spears and halberds.
Oddly enough, while he's plenty skilled in sword use, the sword isn't his 'true' weapon. If asked what he means by that, he'll simply reply that there is another weapon he is more specialized in and say no more.
Fighting Style:
Crane has a very aggressive melee fighting style. His way of fighting is to continue advancing, put his enemy on the defensive, and attempt to use his own weight to over power an opponent. He is well experienced in fighting with heavy armor on, and often takes advantage of his suit protection to soak up smaller blows while he moves in for the kill. Much of his armored style of combat actually relies on grappling moves, and it is common to see him attempt to wrestle his advisories to the ground.
Abilities:
Crane is
very
strong, a product of being weighed down in such heavy armor all the time, and can overpower most opponents with brute force. Something about Crane and his actions imply that he might have other talents beyond brute force, but he chooses not to disclose them at this time.
Personal History:
Crane's history is a bit of a mystery as he keeps a tight lip on the subject and has few acquaintances that would tell of his origins. It's only known that he start appearing on the edges of civilization, sometimes near battlegrounds, and was known to hunt down brigands in the wilds. He became a bit of a ghost story among outlaws and bounty hunters, and tales would be spread about a lone knight that strode into a bandit camps at night and try to take their heads.
The only thing that could hint at his origin is the symbol of his order on his shield, but it has been scratched off as if to hide it.
(more will be revealed as time passes)
Other:
Crane will at times give of an odd feeling, something that feels like a mixed aura of dread and sorrow.