Ignorance // Nathan Sharp
I'm Just Your Problem // 【Ashe】
Dialogue Color ~

#2B993B
Thought Color ~

#73D381
Houtarou Oreki // Hyouka
---
---
"Throw me a reason to give a damn and maybe I'll think about it."
---
---
│ Name │


Yuuda Katsuhiro



│ Nickname(s) │




Hiro

- He accepts this from upperclassmen, but he's very
against anyone younger than him not calling him by his full surname.


Yuu

- His aunt always calls him this. In short, he hates it.



│ Age │


Seventeen // 17



│ Birthday │


January 18th // ♒



│ Gender │


Male



│ Sexuality │


Bisexual



│ Ethnicity │


Japanese / American



│ Grade │


2nd Year



│ Romantic Interest │


TBD
---
---
│ Eye Color │


Emerald Green



│ Hair Color │


Dark Brown



│ Height │


5'8"



│ Weight │


140lbs



│ Description │
---
---
---
---
│ Personality │


Quick-Tempered // Detached // Belligerent // Anti-Social
Yuuda is the type of person that, after a short while, the majority of people learn to avoid. He's quick to jab insults at others and doesn't hesitate for a second to express his dislike of having people hang around him. It's no surprise that he tends to make people angry, especially since his brutally honest way of speaking has caused others to run off in tears. He's quick to deny any friendly requests or conversation with a scornful and often condescending tone, and if that doesn't seem to work then he'll simply give the cold-shoulder. This arrogant and cruel attitude of his has gotten him into trouble quite a few times, some times even resulting in physical confrontation, giving others the chance to label him as a delinquent.

A delinquent status he may have, but Yuuda's grades are far from that of your typical rebellious teen. He does exceptionally well in school, despite the fact that he still has a little trouble reading and writing hiragana and kanji. He's actually very quiet within the classroom, and for the most part avoids interacting with his fellow students, or anyone for that matter, but has no issues with snapping at someone who's bothering him, even if they only mean well. It's only when someone bites at him that he'll bite back, and he sure has no issues with holding his own he needs to.

One might believe that if they peel back the shell of Yuuda's heart that they'll find a warm light, and maybe they're right. Callousness can't really be all that he is, and maybe it's not. Unfortunately his past has lead him to become strongly detached from others. He's socially inept, having little room for small talk and even less room for bonding and that one thing called friendship that he'd honestly have no idea what to do with. Those icy cold needles that slip off his tongue every time he opens his mouth to someone just seem to be lacking an off button, and they shield him from connecting with others. There's no telling when or if that ice will ever melt.
---
---
│ Likes │


Fireflies - Something he recently took a liking to after moving to Japan. He enjoys sitting in the park on late summer nights, preferably after everyone else has gone to bed and the park is empty, just to watch the fireflies.
Instrumental Music - He simply prefers listening to music without someone singing along with it. Be it a classical piano medley or hard rock, he just likes listening to the instrumental version more than the original.
His Bed - Nothing can compare to the relief one feels when they can come home from a long, exhausting day and fall into their bed. In fact, Yuuda spends most of his time in bed when he gets home, even doing his homework and other activities with a blanket over his shoulders.
Rabbits - Well, they're cute, and very soft, and they have those floppy ears that are just so darn touchable. The rabbit is Yuuda's favorite animal.
---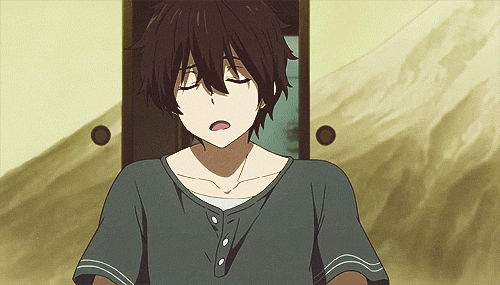 │ Dislikes │


Japanese Reading & Writing - He came to Japan a short time ago and still has some difficulties with the writing style, so it's frustrating for him to try reading and writing in the language. He often relies on his aunt to translate the writing for him.
Nosy People - How could someone not be annoyed when bothersome people are constantly trying to get into your business? And yes, asking how his day was or how he's feeling is very much nosy in Yuuda's book.
Sweets - Yuuda rarely ate sweets as a child. His stomach gets upset easily when he eats even a small piece of chocolate, and he can't stand the obnoxious crunching sound of someone eating hard candy.
School - Too many people always crowding around each other. The loud blurring of chattering voices and laughter is enough to give Yuuda a headache. On top of that he even has to deal with people trying to talk to him.
---
---
---
---
│ Family │


Annabeth Marie Katsuhiro // Mother // Aged 38 // Alive
Katsuhiro Takashi // Father // Aged 43 // Alive
Rachel Lynn Merchin // "Aunt" // Aged 40 // Alive



│ History │

Yuuda's parents were arrested for having dealing with the black market around two years ago. He then moved from America to Japan to live with his "Aunt" Rachel, who is a cousin of his mother.

(WIP)