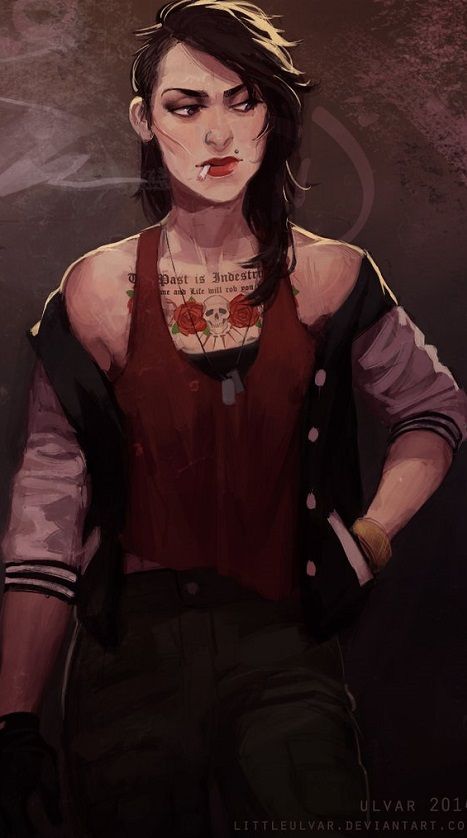 "Punch first, ask questions later"
Basic Information
Full Name
Donelle Blackburn
Gender
Female
Age
32
Hair Colour
Chocolate Brown
Eye Colour
Blue
Race
Werewolf
Orientation
Unknown
---
---
Mental & Psychological Information
Personality
Donelle is the type to let you know if she doesn't like you, she's very blunt and open. If she's irritated or annoying she'll let you know. She has a rather tough exterior and is indeed quite a harsh, rough woman, however she does have a soft side and cares a lot about her comrades, working as a team is a big thing to her and finds that team work is the only way to get things done right. Donelle has always been loyal and respectful to her superiors or whoever is in charge, any kind of back stabbing or disloyalty isn't taken lightly for her and she's not afraid to beat someone up for what they did. She tends to talk with her fists mostly and is a quite temperamental woman, something she should perhaps work on as she can go too far sometimes.
Likes
✔ Cigarettes
✔ Alcohol
✔ Old films
✔ Bad jokes
✔ Brawling
Dislikes
✖ Most people
✖ A Push over
✖ Being lectured
✖ Being in one spot for too long
✖ Waiting
Fears
"Ha ha! I don't have any fears..."
- Dying before their enemy
- Failure
- Losing someone they care about because of themselves
- Being powerless
Secrets✰
Has actually tried to quit smoking and drink less but has failed countless times, loves the shit too much.
✰
Acts tough on the outside but is actually quite a softy on the inside and cares about her comrades a lot
✰
Feels like she's more attracted to women but she just doesn't know, doesn't think about it a lot at all though, doesn't really care.
Outlook on Life
She see's life as a gamble. You give life something and you either hit the jackpot or lose it all, simple. Sometimes life gives you a whole lot of crap to deal with, sometimes it's simple and carefree, but all the time, it's real. It's not something to take for granted and she certainly values her life a lot, see's a lot worth living for and fighting for.
History
Donelle practically grew up in Lutetia, her family had moved there when she was only three years old. Despite all the drama and terror that the town had dealt with, herself and her family managed to get through it all with no worries, especially seeing as how her parents were both Werewolves it was quite simply and easy to survive in the town, but it was a bit difficult to hide this fact from the humans. They wanted the towns people to trust them and not be suspicious of them in any way of being something other than human. And that's how it's always had been. Her parents passed away in some rough fight with another clan that didn't end very well, she knows very little about it and simply told the people of the town that they moved away, to explore, many believe her but in the background she was burying her own parents. She had a rather tough upbringing, went through quite a lot but got by and was well known at the pub, a lot of people had learned not to mess with her and had used her muscle from time to time, for a price of course, nothing more fun than beating up a few people for easy coin she thought.
Physical Information
Description
Her hair is at average, medium thickness, brown, a bit wavy with a few flicks here and there. It's shaved on one side of her head and the rest of her hair is parted to rest on the other side of her head. She has full, plump lips and tends to wear rather natural looking make up aside from her red lipstick. Her make up in a way softens out her quite sharp facial features. She has a small mole just above one side of her mouth, fine eyebrows. She tends to wear loose to baggy clothing and loves the colour red. There is a clear, well done tattoo on her chest of a skull between a line of roses, above it in writing it says "The Past is Indestructible" under that in smaller writing it says "Life will rob you".
Injuries
A rather deep, scar across the side of her face, stopping just above her mouth.
Accessories
- A simple necklace with two dog tags
- A thick golden, yellow coloured bracelet
Miscellaneous Items
- A lighter
- Cigarettes
- Wallet full of money
Skills & Abilities
+ Major Skill 1
-
+ Major Skill 2
-
+ Major Skill 3
-
- Minor Skill 1
-
- Minor Skill 2
-
- Minor Skill 3
-
Legendary Skill Race Abilities
-
-
-
-
-
-
Other Information
THEMES
Main Theme
HUNGRY - Rob Bailey and The Hustle Standard
Hyper - Controllin Me
BUCKCHERRY - Gluttony
Emotional Themes
Frank Sinatra - That's Life
Frank Sinatra - When you're smiling
Foo Fighters - Best Of You
GALLERY
Artist found here