The vast land of Tristán is one where reality and fantasy live on the same level. Everything is harmonious... at least it was, back about 250 years ago. Fighting is all that the people of Tristán know, now, and most don't even remember why the fighting had started. Families were torn apart, entire cities were turned against each other. The only place the fighting seems to have missed was Kyriia, the city of the Royal Family. Most people fled to other lands, but the people living in the city were given a sanctuary.
Main Plot Idea: The fighting has come to an abrupt halt; no one has attacked for almost a month, now. Some people are on edge, others are content with the temporary peace.
Setting: Kyriia, about an hour before sundown. Many are going home, closing up shop, while the bars and places to that affect are beginning to open up.
Rules:
1) Pease, if you must, use some form of OOC.
2) Have some knowledge of the English Language. Grammar is essential, and spelling mistakes are accepted but try to be careful.
3) No PP or GM.
4) Let's keep this PG-16, okay?
CHARACTER PROFILE::
Name
Nicknames:
Age:
Sex:
Race:
Good or Bad:
Likes:
Dislikes:
Good qualities:
Bad qualities:
(Optional for non humans) Powers
Appearance:
(Image)
Tattoos or Piercings:
(My Character)
Name: Isolde Kai-Tet
Nicknames: Iso or Kai
Age: 16
Sex: Female
Race: Human
Good or Bad: Good
Likes: Fighting (Not in the war), Playing her wooden flute, Working at the bar, Chatting
Dislikes: Snobby Attitudes, Hearing about the war, Losing
Good qualities: Sarcastic, Somewhat friendly, Witty, Fighter
Bad qualities: Sarcastic, Rude (At times), Stubborn, Not a good loser
(Optional for non humans) Powers: None, but she's training to be something of a ninja.
Appearance: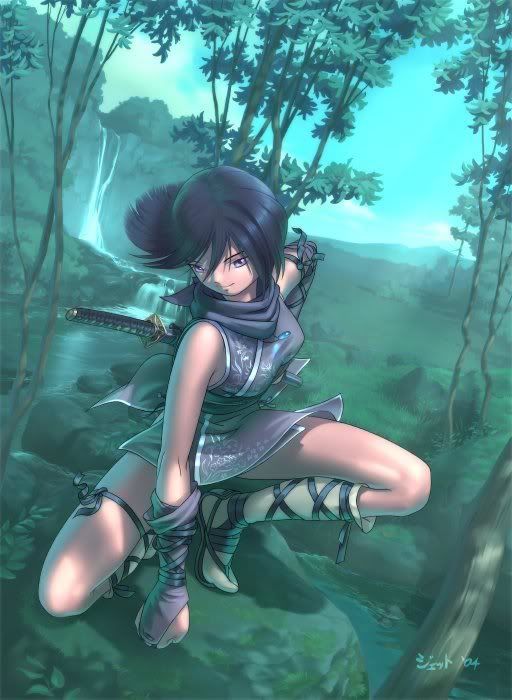 Tattoos or Piercings: A tattoo of that design on her lower back. Her tongue and left eyebrow is pierced.
http://media.photobucket.com/image/tatt ... o.jpg?o=18