Name: Daren Wake
Nickname: Rush
Age: 27
Sex: Male
Species: Human
Sexual Preference: Straight
Height: 5'11"
Weight: 213lbs
Hair: Red
Eyes: Gold
Occupation: Physics student (Formerly), South African Army (formerly), Mercenary; Stames Defense Corporation/freelance(currently)
Place of birth: Johannesburg, South Africa 2057
Appearance: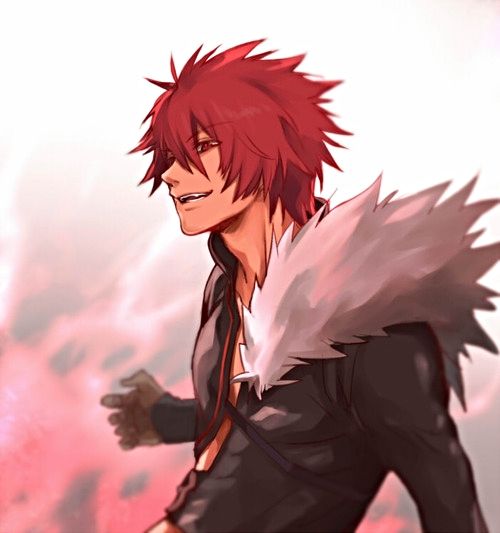 Equipment:
A.K.A.A- Adaptive Kinetic Assault Armor; also known as 'Juggernaut Armor'
Produced and manufactured by Core Agreas Systems. An adaptive armor system that specializes in armor penetration and kinetic defense. First adopted by the South African military in 2078, this armor was developed for front line use by combat engineers for the specific purpose of defeating entrenched and hardened targets. This armor is designed to adapt is armor component on the fly for increased or decreased threats. Mainstays in the armor system are pulse-sonar detection software, internal Trophy system, kinetic armor adaptation, recoil/concussion wave mitigation, 'dumb' AI system. Additionally the armor grants the user increased kinetic yield with their limbs, increasing their strength and speed. Demonstrations with the armor have shown it capable of taking apart cars with the user's bare armor covered hands and shrugging off armor-penetrating rounds ranging up to 10mm in it's 'basic' form. Given momentum, the suit is capable of running headlong through 3 inch thick steel barrier and punching through 5 in steel barriers at the users best ability. The capabilities this armor produces for defeating physical barriers and deflective kinetic projectiles has earned it the nickname of 'juggernaut armor'.
K.A.R 19-Kinetic Acceleration Rail-gun model designation 19; also known as 'The Bulldog'
Produced by Iradius Defense Industries with collaboration from Worne Group in Belgium. The K.A.R 19 is the first ever mass acceleration cannon that has been successfully reduced into a 'small arms' sized package. This weapon fired 20mm tungsten core rounds at speeds exceeding 3km/s, capable of penetrating through the strongest materials. The weapon is single fire only and has a charging mechanism which increased the speed and heat the rounds are fired at. The weapon utilizes an electromagnetic charge instead of compressed gasses and explosives to deliver its payload decreasing the cost of ammunition while increasing the total round count one magazine can hold. Standard magazines hold 54 round, with aftermarket brands offering extended options. Firing a single uncharged shot from the K.A.R 19 allows one round to penetrate through 1 foot of high grade titanium at max distance of 100 meters. Penetration rates and kinetic yield varies after 100 distances given the type of material is being shot at.
Takashi APP-3
Designed by Takashi Defense Institute, this pistol is a striker fired 10mm semi-automatic pistol. With an advanced system using hydraulic rounds in conjunction with standard spring tension the expected recoil for firing such a large caliber round is impressively mitigated. Standard round loads for this pistol include 170 grain, 180 grain, 200 grain and 220 grain. This size of round is known for being able to apply high velocity and stopping power of a flatter distance. The maximum known muzzle velocity of the pistol is 487.68 meters a second. Adding tungsten core the penetration capabilities of this round are amplified. Standard factory magazine capacity for this weapon is 12 rounds. Variant sizes ranging in both full size and 'carry' size changes the capabilities of the weapon in regards to muzzle velocity, effective range and magazines capacity.