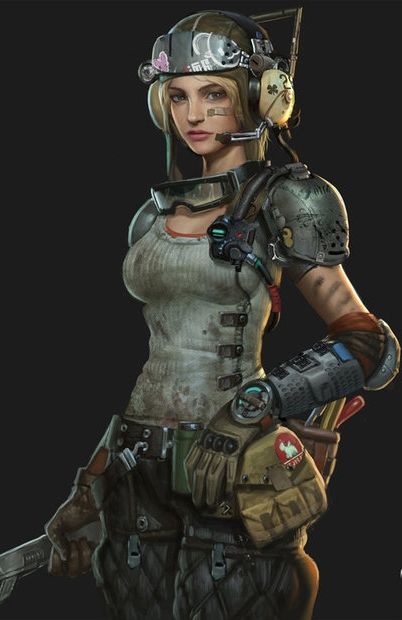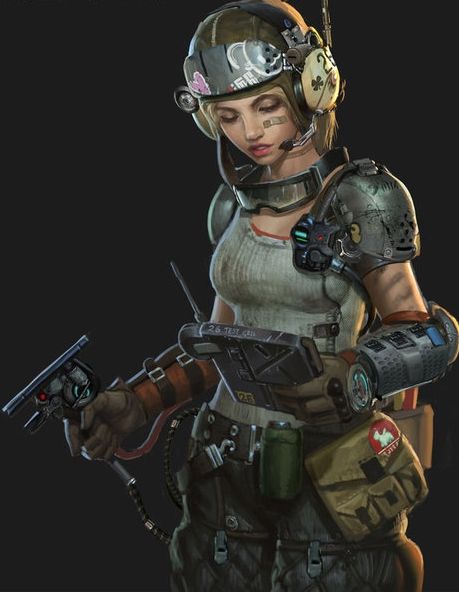 Mackenzie
Theme:
Glitch Mob (Remix) - Seven Nation Army
GENERAL INFORMATION
Role:
Mechanic/Mech specialist
Gender:
♀
Nickname(s):
Mack, Goldy, Clutch, Sparky
Age:
25
Race:
Terran (Human)
APPEARANCE
Height:
5'5"
Weight:
135 Lbs
Build:
Sporty physique with some voluptuary characteristics.
Hair Color:
Blonde
Eye Color:
Blue
Scars/Tattoos/Piercings:
A few minor scars from knuckle busting and slag burns, but nothing serious. Most injuries are on her hands, though one made its way to her cheek.
MENTALITY
Oddities:
Mentally, aside from her rather Tom-boyish attitude, Mack is a pretty normal Fem-mechanic.
Skills:
Exceptional mechanic, excellent welder, there isn't much this girl can't fix. Mackenzie is also a fairly decent pilot.
Likes:
Anything mechanical, welding, her shop, and her mech.
Dislikes:
Hobbies:
Tinkering, tearing machines apart, and any other matter of mechanic related activities. Aside from her regular duties, Mackenzie does have that feminine side of shopping, romance, and bubble baths. Yes, she adores bubble baths.
Phobia(s):
Flying/heights
Personality:
Spunky and outgoing, Mackenzie isn't one to be shy, at least not often. 'Nothin would ever get done if ya didn't get offa yer arse and do it, same goes for talkin.'
COMBAT
Weapon(s):
Aside from a her wrench, Mackenzie carries a 7.21mm MH-S7 pistol.
Fighting Style:
What could be considered bar fighting, Mackenzie is a slugger. When it comes to actual combat, however, she prefers the metal hull of her mech.
Abilities:
Pilot/Mechanic. Her tools are her trade, and her life. The mech guards it all.
BACKGROUND
Relationship Status:
Single. Often the mechanic day dreams of finding mister right.
Family:
N/A
Personal History:
Mackenzie was raised by a single parent, her father. The mechanics mother having died in a serious vehicular accident when Mackenzie was in her toddler years. Growing up, her father raised her well, keeping her out of trouble with the law and teaching her the mechanics trade. At 17, Mackenzie dropped out of high school to work with her father in the shop he owned. They did well, until Mackenzie's father had his past catch up with him. At a young age, Ericson had a gambling problem, and often bet things he never had. One day, karma came a knocking in the form of some loan sharks. Leaving out some rather explicit details, lets just say it left both Eric, and Mackenzie, scarred in more ways than one. Bound and forced to watch as his daughter was used disturbingly, Eric snapped. He'd managed to get a hold of a small blowtorch while the thugs were busy tending to Mackenzie. Using the tool to cut the binds, the man took a wrench to the skull of one of the sharks. In what could only be described as a bloody mess of brain matter and skull, the first shark was dead. The other two were absolutely shocked, but not petrified. The lead had taken Mackenzie up and was using her as a shield, the other moving to engage Eric. The result was a dirt loan shark on the ground with a broken arm, broken ribs, and a collapsed lung. It wasn't until the leader of the trio produced a gun and put it to Mackenzie's head that Eric's rage subsided. At the final moment, when his guard was down, the loan shark shot Eric down, three times in the chest. He collected his only leaving partner, and left before the authorities could arrive. Mackenzie was left with her dying father, whom died shortly before paramedics could reach them.
Crushed and alone, Mackenzie turned to alcohol for a time. Spending much of her time in bars and taverns to drink away her sorrow. It wasn't until her uncle came along, 2 years later, and lectured her that Mackenzie began to smarten up. After sobering up, Mackenzie enlisted in the military as a Mechanist. She was trained in the piloting of a mech and served a single tour. She has her own shop, mind you it is still under military jurisdiction, but her shop none-the-less. Now, Mackenzie mainly fixes and maintains the military vehicles on the base. From time to time, however, she does go out on the town for some fun.
Mackenzie's Mech
Armament
This fully automatic, 20 mm, rifle is a well-rounded weapon with a high rate of fire and low heat generation. It can be fired continuously without a noticeable decrease in accuracy at close range, but requires short, controlled bursts to hit targets at long range.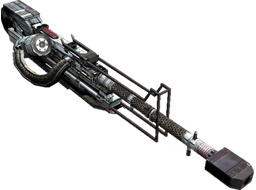 The Hellfire launches eight missiles across two quick bursts. Each missile deals moderate explosive damage, which compounds quickly if multiple missiles make contact. Press the middle mouse button to scan for targets. The target reticle flashes when a lock is acquired. Locked-on missiles will home in on targets, but without a target lock, the missiles are unguided and spread fairly quickly.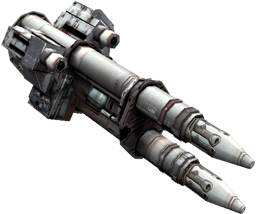 The Shield item deploys an electromagnetic dome that blocks weapon fire for a short time (charge to deploy farther from your mech). You can fire from inside at targets outside the Shield. The Shield has a short duration and can be destroyed by sustained weapons fire. Larger versions last longer and block more damage.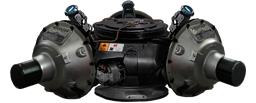 The Detonator item is a low-velocity projectile that fires in a straight line. It deals damage on impact, as well as splash damage to nearby targets. Larger versions deal more damage. The projectile can be detonated early by pressing the Use Item button a second time.