X
X
X
X
XXX
XXXXXXXXXXXXXXX
X
X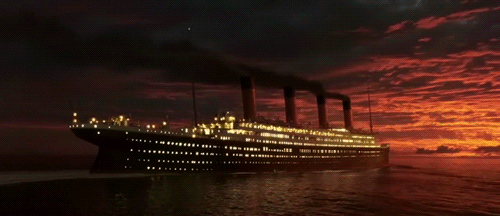 X
X
X
X
After the tragic sinking of the RMS Titanic in 1912, engineers and shipwrights went to work to create the new luxury ship. Smaller than the Titanic but large enough to contain living quarters and recreational rooms. In 1924, they succeeded and built The Dreamer. This vessel had multiple living quarters, ballrooms, a massive dining area, working electricity, a pool room, flushable toilets, well-furnished lounge areas, and plenty of places to party. As a show of good faith that their ship could sail the seas, they auctioned it off to the highest bidder which was a man named Jameson Gatsby--a tycoon who made his money on property, oil, and the smuggling of alcohol during prohibition. He purchased the vessel to host his wedding to his fiance Georgia Day. Jameson, Georgia, their wedding parties, and all their guests, set sail a week before the wedding was to take place. Somewhere along their journey, Georgia and Jameson's best man, Richard Johnson, fell in love. However, Georgia had still planned to marry Jameson which made Richard furious. On the day of their wedding, while the husband and wife were exchanging vows, a very drunk Richard had taken control of the vessel and crashed it into rocky shores off the east coast, cursing the ship and it's people to eternity at sea.

Every year at the same time The Dreamer had made its voyage, a vessel can be seen cutting through the ocean waters. If you die at sea during this time, it is said that your soul may end up on the ship, cursed to party for all eternity. Our characters have seen their share of death at sea and they find themselves aboard The Dreamer with no memory of how they died or their lives before. Slowly, their memories begin to return, but they still cannot leave the ship. They must find a way to break the curse and free all the souls to the world after. Or be trapped forever.
---
After a whirlwind romance ending in their deaths, the cursed couple spends their afterlives at sea, reliving the week before their demise. The romance, the betrayal, and the crash. Georgia continues to pick Jameson over Richard. Would a different choice change their fates? Or will they continue to be stuck in the loop of their last days?
The fated's love story is long and hard-fought by Fate. The two met as children, grew up together, and even went to school together. They were neighbors, classmates, and even roommates, but in all this time, they refused to see the love right before their eyes. They cherished their friendship too much to potentially ruin it in a relationship. While partying during spring break, a storm swept their boat out into the ocean where it eventually sank. That was the night they had decided to take a chance on each other. It was also the night they found themselves aboard The Dreamer. They are in no rush to move onto the afterlife now that they're finally together, but what they don't realize is that they're fated. They were and always will be together. In this life, after, and the next. Will they help free the trapped souls? Or will they choose to spend eternity together aboard the party ship?
A forbidden love caught fire, the starcrossed are a couple who fell in love hard and fast. They struggled in their lives and found solace in each other. Unfortunately, their families didn't approve. Instead of living their lives apart from each other, they decided to fake their deaths by jumping from a cliff into the ocean and then run away together. Unfortunately, the water was at low tide and their jump proved fatal. Now they are stuck in limbo aboard The Dreamer until they can break the curse. Will all this time together be bliss or will they find that their love is not as strong as they believe?
Taking place in...
10 posts here • Page 1 of 1
10 posts here • Page 1 of 1
Arcs are bundles of posts that you can organize on your own. They're useful for telling a story that might span long periods of time or space.
There are no arcs in this roleplay.
There are no quests in this roleplay.
Welcome home, Promethean. Here, you can manage your universe.
Arcs are bundles of posts from any location, allowing you to easily capture sub-plots which might be spread out across multiple locations.
You can create Quests with various rewards, encouraging your players to engage with specific plot lines.
Settings are the backdrop for the characters in your universe, giving meaning and context to their existence. By creating a number of well-written locations, you can organize your universe into areas and regions.
Navigation
While not required, locations can be organized onto a map. More information soon!
There are no groups in this roleplay!
By creating Collectibles, you can reward your players with unique items that accentuate their character sheets.
You can schedule events for your players to create notifications and schedule times for everyone to plan around.
The Forge
Use your INK to craft new artifacts in Secrets of Limbo. Once created, Items cannot be changed, but they can be bought and sold in the marketplace.
Notable Items
No items have been created yet!
The Market
Buy, sell, and even craft your own items in this universe.
Market Data

Market conditions are unknown. Use caution when trading.

Quick Buy (Items Most Recently Listed for Sale)
None
Discussions
Topics

Replies
Views

Last post
Most recent OOC posts in Secrets of Limbo
This is the auto-generated OOC topic for the roleplay "
Secrets of Limbo
"
You may edit this first post as you see fit.