"some secrets need to be told. others need to be buried and should never see the light of day again."


---
---
the golden age of superheroes is over. for a time, the heroes were idolised. the police service was grateful for their assistance. the world saw them as a gift. not a curse. villains rose in response to the heroes, the people cast aside or who desired chaos for some other reason. they fought their battles in the city, and the city let them for a while. but eventually, questions began to be murmured. and then shouted. who are these superheroes? where did they come from? why should they be allowed to cause destruction and the city and its citizens be forced to foot the bill? why are the police service too incompetent to find who the villains are? a quiet resentment grows. and then a quiet resistance grows. somebody who has a talent for finding out secrets. they find out the secrets that the heroes fought to keep buried. they find out the secrets that made the villains who they are. these are the secrets, the knowledge, that could expose them all and ruin everything. for those who don't care about their identity, they still know all of their dirty secrets. the things that, at best, would ruin their personal lives if exposed, and that at worst, would forever ruin public opinion of heroes.
---
---
and instead, they use it to bring them to their knees. unless they cease all public activity immediately, their secrets will be leaked, along with their identities, their weaknesses, everything about them that could destroy them. the heroes and the villains work independently to try and find out who is behind it, but their attempts fail. two brave, foolish heroes have their identities exposed and are found dead. a villain is exposed and disappears a few days later. eventually, they both realise that the only way they can ever hope to overcome this... is to work together to try and take them down. a temporary truce is called and they meet in a neutral ground. But these people have been actively trying to tear each other apart for as long as they can remember. Will they succeed? Or will their differences be the downfall of them all?
---
---
first things first, a reminder that god-modding is forbidden. god-modding typically means controlling a character without their player's permission. so when in doubt, ask. or better yet, collab on a post! romance and violence are pretty much a given for a drama-driven rp like this, but keep it within site rules. most importantly, if things get steamy, either fade to black or bring it off site. there will be adult themes within the rp. if the content veers into uncomfortable or distressing, please PM me and we can work around it or i can ask other players to alter as necessary. please keep the drama to the ic. any issues arising among members of the rp should be dealt with over pm. reservations go in the ooc as they're easier to keep track of. real face claims only, please. characters can be as old as you like, but must be and must appear to be over 18. the inter-personal drama will be as important, if not more so, than the external drama, so bear that in mind! please work with other writers to create dynamics between your characters. they don't have to be BFFs, worst enemies, or soulmates- just make sure your character isn't a total loner or beloved by everyone! variety is important and a little bit of drama is always fun. you have 48 hours to submit a WIP. that WIP can be a blank sheet, i just want something in to know you're still on board. you will then have 5 days after submitting your WIP to finish your character. i will grant extensions as long as you pm me. any further questions or issues, please pm me! i don't bite, promise. when reserving, i'd like your character's face claim, a 250px wide image of said face claim (don't worry if you can't find one, i'll figure something out :D), their speech colour, and a brief description of their secret (take a look at my character for inspiration!)
i have set up a
discord server
for chatting and discussing relationships! you aren't obliged to join, but trust me, it's so much easier when it comes to pming about relations!
---
---
Cerys Day | Artemis | 24 | Enhanced Physiology | Lynn Gunn | partially-stars
When you're the baby sister of some of the most iconic heroes in the past few decades, there's a lot of pressure. So when your "ability" relegates you to the sidelines with a bow and arrow, it's hard not to be angry. Her parents didn't even notice when she went off the rails. They were too busy being heroes. She made it halfway across the States before anyone realised she was gone. It was only when one of her siblings was killed on the job that she stepped up to being an active hero- but her own family don't know. They don't know who Artemis is.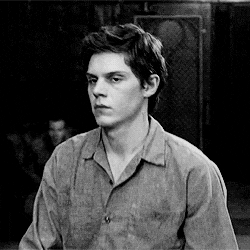 Aaron Langdan | BludWynd | 25 | Shadow Manipulation | Evan Peters | Wolf's Bane109
Aaron had a surprisingly good upbringing, considering who his parents were and the reputation they had. You see, Aaron was the offspring of two very well known and feared villains. While they were masterminds of pure evil, when it came to their own child it was like a switch was flipped. They were every day, model citizens that wanted nothing but the best for their child, which is also why they kept their secret lives of villainy from their child. It was only when he was older and that his powers began to manifest that his parents tried to lead him down the path they were on, but one day a fatal accident happened that left him orphaned. Since then, Aaron has tried to right all of the wrongs and sins of his parents, and make things right for the people's lives that his parents ruined. He became the very thing his parents fought against for years, a surprisingly upstanding and reliable hero in the light of a darkening world...
Jena Wainwright & Ardian Nobles | Gemini | 24/25 | Fire Manipulation/Water Manipulation | Zoe Sugg/Aflie Deyes |
#D6130B
/
#0018BE
| Maci-Care
Jena and Adrian weren't always one person, but after an accident when trying to flee from some crooks, they fell together and awoke the next day as one person. Being able to not just shift between their physical forms but as well as their own separate powers over an element, Jena with fire and Adrian with water. Not sure where to go and wanting help they quickly joined up with the heroes and starting to try to make a difference as Gemini, hoping to prevent any citizen of couple from being attacked.
Kieran Valanetti | Malfyre | 23 | Telekenisis | Sophie Turner | Wolf's Bane109
From a young age, she had shown a complicated connection to her powers. Being more in tune with her emotions and mental state, rather than an ability that can be called at will. While she can use her abilities on command, they are more of a wild spurt of chaos, which has caused her to earn a darker reputation amongst the people in the city. Being more of a bother and reckless force of nature than a contained source of power, she has been lying in the shadows in recent years. Her past, for the most part, is raveled in mystery, all that is known is that she used to be a child of well-known superheroes, and seems to want to stray away from the way they used to do things. Tending to do things her way and her way only, getting her to follow ones command may not be an easy or even possible task.
Dhani Batra | Paladin | 27 | Superhuman Durability/Healing Abilities | Rahul Kohli | #87275a | nonconformingrole
Dhani had a pretty normal upbringing; his mother also had powers, but they weren't anything special, not enough to fight crime with, anyway. But when Dhani was a teenager, his powers began to manifest. Of course, he did what any teenage boy would do: he initially used his powers to pull off stupid stunts, but quickly shifted into crime fighting. He's got a reputation to rush into danger first, and ask questions later. After all, not much can keep him down for long.
Atticus Hawkins | Icarus | 22 | Precognition | Samuel Larsen | partially-stars
All his life, he's been haunted by visions. Things decades ahead, things that happen the minute he opens his eyes- he has no control over it, and simply has to hope someone has his back when a vision hits. He was forced in to being a villain. His parents had never liked the heroes, being mixed up in all the wrong type of business- so when the villains came knocking, he was thrust into working with them. He used to be tied up in a crime family as well. But when the head of the family was killed, Atticus saw it as his way out. He saw it coming with enough time to stop it- but let it happen.
Piper Young | Aboleth | 21 | Mind Control | Florence Pugh | #3e7a4e | nonconformingrole
Piper didn't
set out
to be a villain. She grew up with a normal enough life: loving parents, a playful older brother. They didn't have much money, but she never let that bother her. There was a time when she tried to use her powers for good, to help people. But the lure of power was strong, and her own power made attaining it all too easy. At first, she just wanted enough to get by, but she never really knew when to stop, and the more involved she got with villainy, the more she realized that she liked it.
Michael Bennett | Prime/Legion | 30 | Replication | Tom Macdonald | Bayonet RPG
Michael was a troubled youth who struggled growing up in a single parent family after his father's untimely death while serving in the military. Despite his and his families struggles Michael was determined to not become another petty criminal youth and instead focused on remaining positive and joining the military just like his father, against his mother's wishes. While serving as a soldier he became aware of his abilities, being able to replicate objects, including himself. After a traumatic event where a number of his close friends died while serving, Michael is discharged for mental health issues. Now a war veteran and with the emergence of heroes and villains, Michael decides to use his abilities to eliminate those he deems a threat to the society he fought and his friends died to protect. His extreme actions towards villains and heroes has labeled Prime, and his organization of clones, the Legion, as a criminal organization.
Luciana Morrison | Red Witch | 24 | Blood Manipulation | Taylor Momsen | Maci-Care
Some people choose to be villain off the need for power, others do it for the money, and some do it just to have fun and cause chaos, but none of these reasons were why Luciana became a villain. From a young age her environment was always anti-supernatural, so when her parents found out what she was and how she could manipulate blood, and after a little bit of an altercation, Lucy began her life on the run. Even when she went to some so called heroes for help at a young age, they called her a monster and a villain, when all she wanted was advice and to be welcomed. So when some villains offered her done sanctuary and a life, she accepted becoming a villain, accepting who she was meant to be. For Luciana Morrison, the villain life choose her.
Taking place in...
A city of heroes and villains that is tired of both.
Arcs are bundles of posts that you can organize on your own. They're useful for telling a story that might span long periods of time or space.
There are no arcs in this roleplay.
There are no quests in this roleplay.
Here's the current leaderboard.
There are no groups in this roleplay!
Welcome home, Promethean. Here, you can manage your universe.
Arcs are bundles of posts from any location, allowing you to easily capture sub-plots which might be spread out across multiple locations.
You can create Quests with various rewards, encouraging your players to engage with specific plot lines.
Settings are the backdrop for the characters in your universe, giving meaning and context to their existence. By creating a number of well-written locations, you can organize your universe into areas and regions.
Navigation
While not required, locations can be organized onto a map. More information soon!
There are no groups in this roleplay!
By creating Collectibles, you can reward your players with unique items that accentuate their character sheets.
Once an Item has been created, it can be spawned in the IC using /spawn Item Name (case-sensitive, as usual) — this can be followed with /take Item Name to retrieve the item into the current character's inventory.
Give your Universe life by adding a Mob, which are auto-replenishing NPCs your players can interact with. Useful for some quick hack-and-slash fun!
Mobs can be automated spawns, like rats and bats, or full-on NPCs complete with conversation menus. Use them to enhance your player experience!
Current Mobs
No mobs have been created yet.
Locations where Mobs and Items might appear.
You can schedule events for your players to create notifications and schedule times for everyone to plan around.
Add and remove other people from your Universe.
The Forge
Use your INK to craft new artifacts in the wicked game. Once created, Items cannot be changed, but they can be bought and sold in the marketplace.
Notable Items
No items have been created yet!
The Market
Buy, sell, and even craft your own items in this universe.
Market Data

Market conditions are unknown. Use caution when trading.

Quick Buy (Items Most Recently Listed for Sale)
A city of heroes and villains that is tired of both.
Discussions
Topics

Replies
Views

Last post
Most recent OOC posts in the wicked game
There have been no posts in the OOC topic for this roleplay!